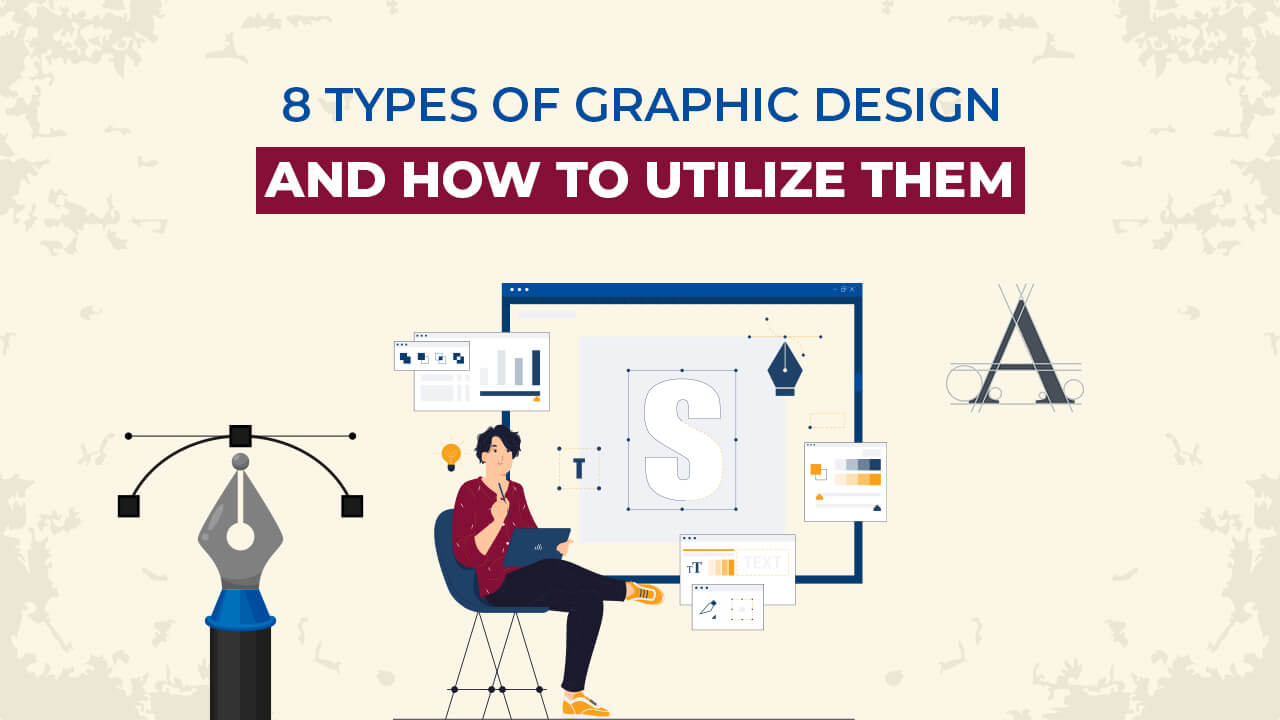 Many individuals have a narrow understanding of graphic design and are unaware of how flexible and deep it is. And each of us has a different perception of this topic in our brains. Each individual is likely to have diverse perspectives on graphic design if you ask them the same question.
A graphic designer's job is to use their expertise to bring all pieces to life so that they may communicate anything, such as a concept or a message.
There are 8 types of graphic design. This blog outlines them and guides you through what each one is and how to use it. Let's look at it.
8 Forms of Graphic Design:
Let's examine the various categories of graphic design now:
1. Graphic Design for Visual Identity
When customers can recognise a company's individuality and unique story, it becomes a brand!
Visually different stories are created and given a creative life through graphic design.
Graphic designers use images, shapes, colours, and tones in the narrative to convey the brand's personality and philosophy. Know more about Basic Principles of Graphic Design
Graphic design for visual identification deals specifically with that; it serves as the public face of any company and conveys its mission through pictures, patterns, and colours.
2. Graphic Design for Advertising & Marketing
Well, most people mistakenly believe that this category is what graphic design is for! Graphic design for marketing and advertising includes print and digital advertisements that aim to draw buyers.
This involves designing the ideal flyers, hoardings, and posters that imaginatively convey the concepts, products, and slogans of your company.
This type of design, which historically focused primarily on print, has now grown to include more digital tools, especially for use in content marketing and online advertising.
3. Graphic Design for UI
This category deals with the production of appealing and aesthetically pleasing user interface designs for a device or application UI graphic design.
In this situation, designers are concerned with combining typography, colours, images, and forms to provide users with the ideal visual experience.
Companies with websites and mobile applications need the greatest UI graphic designing services. To create desktop apps, web apps, games, websites, etc., UI designers collaborate closely with UX designers and UI developers.
4. Graphic Design for Publications
Publications are a kind of media organisation that communicates through distributing printed materials such as books, periodicals, newspapers, catalogues, etc. to the general public.
Publication graphic design includes producing covers and other visual elements for a publication's many initiatives.
This category focuses heavily on graphic design for print media. Here, colours and alignment are quite important.
Although they are occasionally utilised for business purposes, graphic art and illustration are not directly related to graphic design.
5. Graphic Design for Packaging
To achieve the most enticing packaging for their products, brands invest enormous sums in packaging design.
The goal of this design process is to produce bottles, cartons, bags, containers, and other packaging materials in aesthetically pleasing packages.
Packaging designers produce concepts, print-ready files, and mockups for items. This calls for in-depth familiarity with print technologies as well as expertise in manufacturing and industrial design.
6. Motion Graphic Design
What we refer to as motion graphic designing are the graphic designs that are in motion. Most graphic designers in this category work in television, movies, and online media.
This is one of the newest design techniques that may be applied on all digital platforms. This in-demand graphic design business has created new chances for expansion.
To produce aesthetically appealing motion graphics for brands, several of them also collaborate with production and animation studios.
The need for motion graphic artists is growing quickly in this digital age.
7. Graphic Design for art and Illustration
With this type of graphic design, beautiful images are necessary to convey a significant concept or an instance of original artwork.
This category includes images that tell a story.
Typically, this kind of graphic design has nothing to do with any particular brand or item. Nonetheless, fashion or production companies might employ artists in this group to run advertising campaigns.
8. Design for Environmental Graphics
Another large area of graphic design is environmental graphic design, which aims to make informational environments more interactive and aesthetically pleasing for visitors.
The goal of this design is to provide individuals with a memorable experience by connecting them to certain locations.
The environmental design includes all of these elements, from museum backgrounds to signage in art auditoriums.
Final Thoughts:
The correct tools and talents are required to produce amazing graphic designs, but you can only do this if you are aware of the various kinds of graphic design services available and where to employ them.
If you are in search of any kind of graphic design services in surat, then contact flyerdigi. We are a digital marketing company in surat and our services include all types of graphic design. Connect with us now.