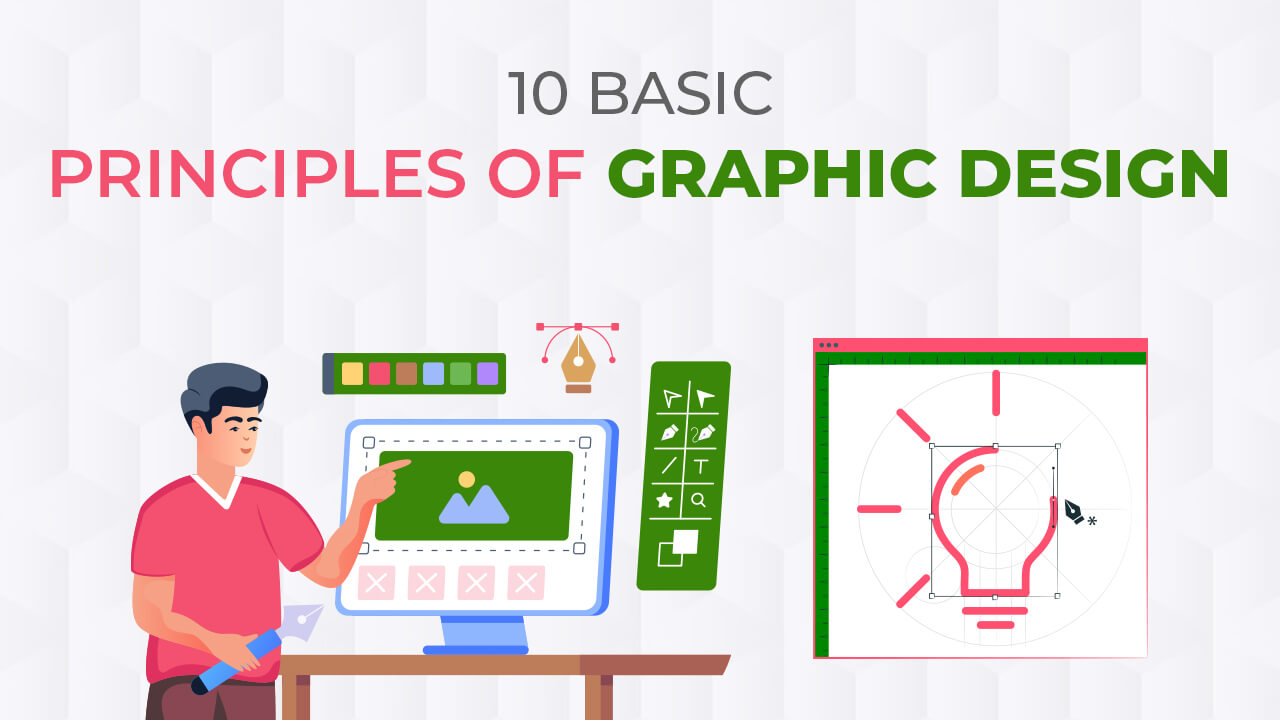 Graphic design has become an essential part of today's digital world.
Visuals create a substantial impact on every viewer's mind. So each brand uses graphics that help them represent their brands amazingly and increase their brand value.
You only get one chance to make a good first impression when dealing with customers.
Infuse their experience with your knowledge and application of design components to a variety of projects. Of course, as a designer, you should not be afraid to draw outside the lines and have fun while working on it!
Although branding and design are indistinguishably connected, it is critical to learn the basic principles of graphic design before embarking on any new project. So, let's go over the 10 Basic Principles of Graphic Design that will help you create stunning graphics.
1. Balance
A design's balance adds firmness and structure. To have a better understanding, consider the weight of each of your design components.
It is not necessary that the components must always be placed in an equal or similar manner.
Balance might be symmetrical or asymmetrical. Asymmetrical balance produces movement in design through the use of size, contrast, and colour. On the other hand, symmetrical balance happens when the weight of components is evenly divided on each side of the design.
2. Proximity
Proximity facilitates the establishment of a connection between comparable or related components.
These elements do not need to be grouped; instead, they should be related aesthetically by font, colour, size, and so on.
3. Correct Alignment
The significance of alignment in creating a seamless visual link between design components cannot be emphasised.
It gives photos, objects, and text blocks an ordered appearance by deleting disorganised components. The text, shape, and image have been centred to make an 'Alignment.'
4. Visual Hierarchy
A hierarchy can be done in a variety of ways, such as using larger or bolder fonts to emphasise the title, placing the main message higher than the other design elements, or emphasising larger, more detailed, and colourful pictures over less important or smaller images.
5. Recurring
Repetition is an important design element in branding.
It creates a rhythm and strengthens the overall design by connecting continuous components such as the logo and colour palette. This allows visitors to recognise the brand or design immediately.
6. Contrast
Contrast happens when two contrasting design elements are to be distinguished.
The most common types of contrast that are used in graphic designing are dark vs. light, modern vs. old, and large vs. small.
Contrast draws the viewer's attention to the vital details. The text in this image has been darkened to stand out against the background.
7. The colour
Colour is an important design element that affects a design's overall ambience.
Choose your colours deliberately as they will reflect your brand.
A basic understanding of colour theory is always useful for a graphic designer. Colour palettes can be used to complement or contrast components.
8. Vacant Space
Empty space is referred to as 'negative space,' which simply refers to the area between or surrounding the components.
When used correctly, negative space can help establish a form and highlight the important elements of your design.
9. Typography
Typography is one of the most fundamental design foundations, and when done stylishly or even customised, it can tell a lot about a company. Sometimes just saying "type" is enough to convey your design concept.
10. Rules
When you are an experienced graphic designer who understands the foundations of design, it is time to break some of those rules.
We don't mean utilising pixelated images or a difficult-to-read font style. Keep in mind that anything you intend to say should not be compromised.
Bottom Line:
When applied early in a project, design principles can be quite beneficial. They can save you a lot of time later when you're struggling to make your design appear excellent.
If you are looking for any graphic design services in surat then contact flyerdigi. We are a digital marketing agency in surat providing graphic design services. Connect us to know more.