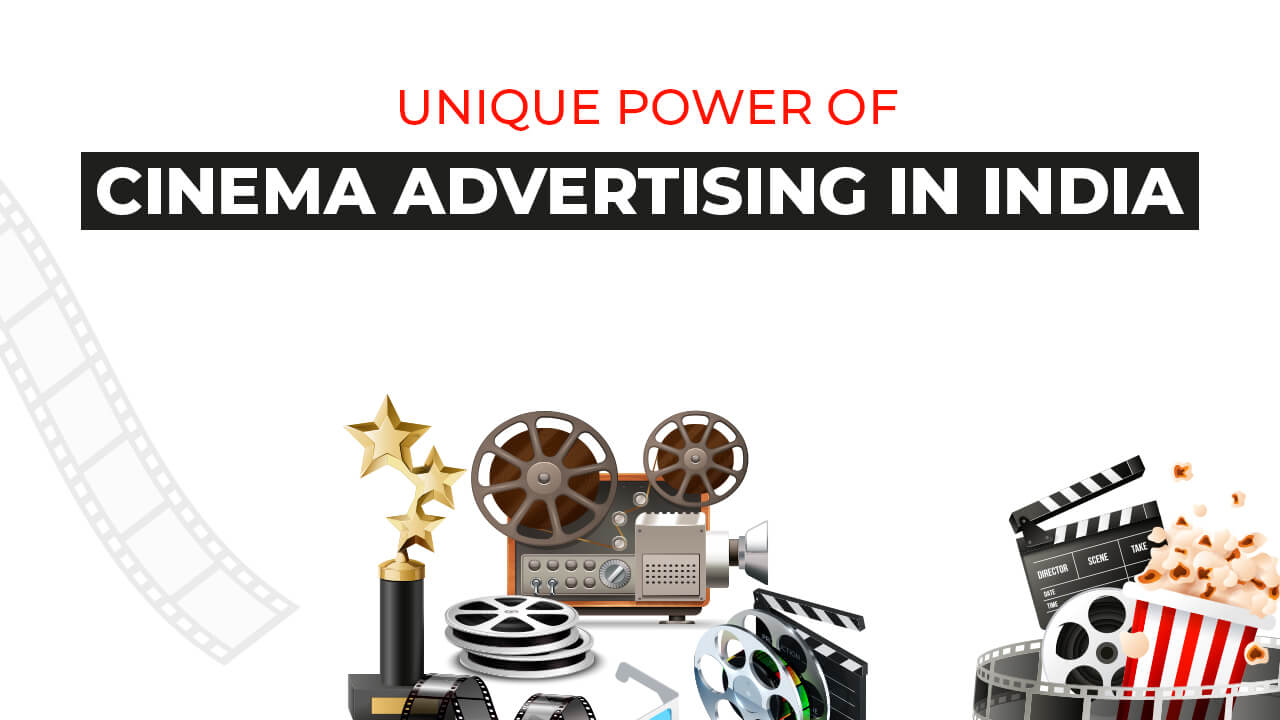 In India, we can say that people worship cinema and movie actors. There is a huge craze for movies among all age groups in India. That is why cinema advertising is still in the market performing high values in advertisements.
There is a long history of collaboration between Indian advertising and Indian movies. We would like to highlight the power of cinema advertising in the digital era but first, let us tell you what exactly cinema advertising is.
What is movie marketing?
Many various types of advertisements can be seen in theatres. Video Ads can target a certain demographic by being specially chosen for each film and based on the age of viewers and the genre of the film being screened.
In-theatre video advertisements give advertisers a special chance to connect with target audiences at the perfect moment—when they are actively watching.
Advantages of Cinema Advertising:
There are numerous benefits of cinema advertising:
- The message has a "larger than life" impact on massive movie screens.
- As they cannot change the channel or flip the pages of a print advertisement and are unlikely to leave during advertisements, the audience is trapped audience.
- An audience who is likely to be focused on the screen or the theatre lobby will see in-theatre advertising.
- Better attention span is guaranteed by in-theatre advertising, ensuring that the message is effectively conveyed.
- Cinema can effectively reach a small geographic area as well as the entire country because of its extensive localised reach across all of India.
The qualities listed below will enable you to understand the special influence of cinema advertising India.
Particularly Engaging
Cinema advertising causes the fewest distractions for the spectator.
It is not feasible to mute or skip the advertisement on the big screen. Viewers can process advertisements more intently because of the type of variables, surround sound, large screens, and the dark environment of the movie theatre.
The largest brand recall
Cinema advertising's immersive qualities allow for the greatest brand recall.
The best ad campaigns are used in movie advertising in India because of the spacious theatres and longer time slots. Several times more moviegoers are likely to remember an advertisement than viewers of television.
Scope for experimental activations
Cinema advertising is not just for the large screen; it can also include branding on popcorn tubs, light boxes, the back of tickets, sampling stands, screens above concession kiosks, and whatnot.
The cinema mode offers a lot of potential for top-impact experimental advertising. It is up to businesses to take full use of this.
Serving Specialized Markets
Any advertising campaign's criteria should not only focus on broad appeal. A winning plan would involve carefully prepared content that nicely reaches the target audience.
Using a cinema advertising agency, niche markets can be catered to because you can identify the audience types entering movie theatres to watch their preferred films.
The cost is reasonable
Each local movie theatre has a varied number of screens and crowd capacity, so they customise their pricing to be the greatest deal for each theatre. You'll be shocked by how reasonably priced movie advertising is.
Concluding note:
When it comes to integrating cinema advertising for your purposes, you should work with experienced movie theatre advertising companies like Flyerdigi. We can build the perfect plan for your demands that will function well when paired with other methods such as print, television, and others.
You should be aware of the benefits of cinema advertising that it will have on your business as well as the company's image. We know what works best and are here to assist you in reaching your goals.
Popular Searches: