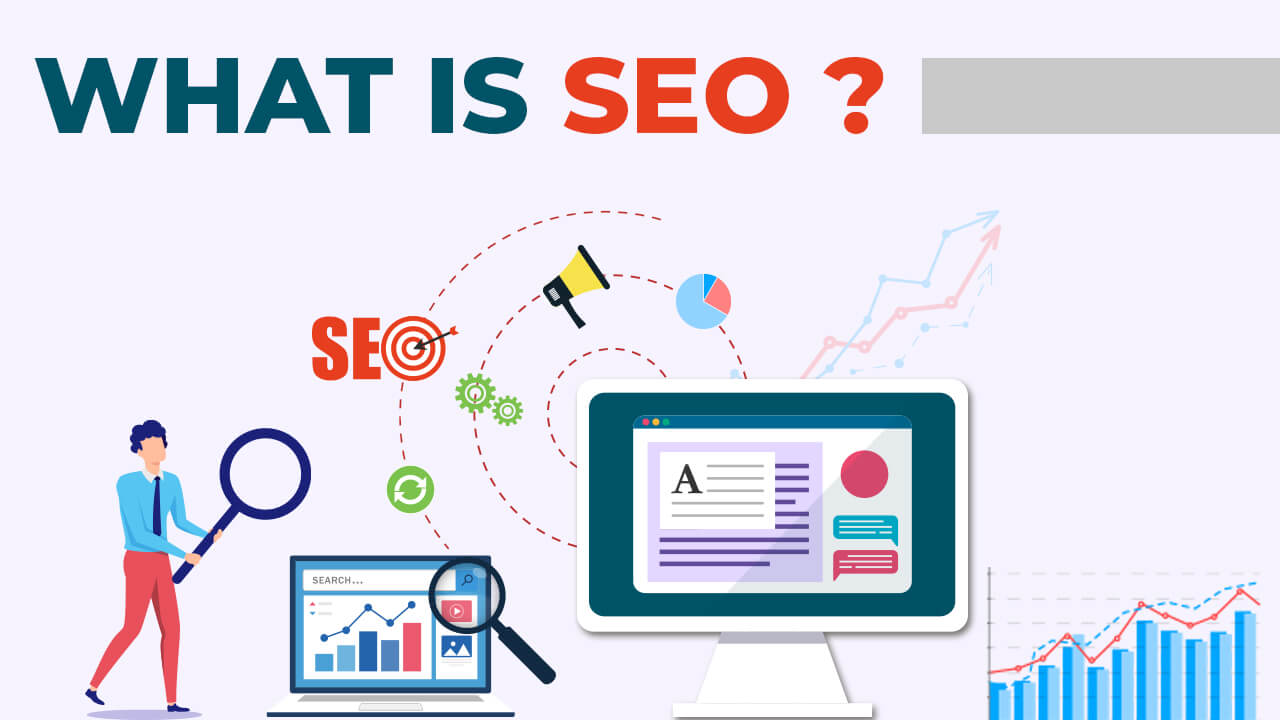 In the modern digital world, you may have heard the word SEO thousands of times.
SEO has become an essential part of today's fast-growing digital world.
Whether you are a digital marketer or developer or designer, it is necessary to understand the basic knowledge of SEO.
In this blog, we are going to bring SEO into the limelight to better understand the term and show you how you can use SEO for the betterment of your website, blog or anything linked to the digital world. Let's start with the basics.
What is SEO?
SEO is an abbreviation for search engine optimization. SEO is the process of working to increase a website's or piece of content's rating on Google.
The main difference between SEO and paid advertising is that SEO entails "organic" ranking, which implies you do not pay to be in that space.
Simply explained, search engine optimization is the process of improving a piece of online content such that it appears near the top of the page when someone searches for anything.
A search engine like Google is the place where the vast majority of online searches begin. In actuality, 75% of those queries begin with Google.
You must first have a firm understanding of how search engines function to discover how to rank your content higher.
The main purpose of this blog is to help you grasp the complexities of search so that you may optimise your content to rank better on Google and attract more readers.
Why is SEO important?
Let's divide our definition of SEO into three elements to better understand its importance:
Organic search results:
Organic search results are unpaid listings on a SERP that the search engine has determined to be most pertinent to the user's search.
Many SERPs are dominated by ads.
In contrast to these advertisements, organic search results are positioned using the search engine's organic ranking algorithms rather than advertiser bids.
Organic traffic quality:
how relevant the user and their search query are to the information on your website.
High-quality traffic only consists of users who are interested in the goods, data, or other resources your website offers.
High-quality SEO takes advantage of search engines' efforts to match a user's search intent to the web pages presented in the SERP.
Organic traffic quantity:
the number of individuals who arrive at your site via organic search results.
Users are considerably more likely to click on search results that appear near the top of the SERP, so utilise your SEO approach to rank relevant pages as high as possible.
How does SEO work?
Search engines like Google and Bing use crawlers, also referred to as bots or spiders, to collect data on all of the content available on the internet.
The crawler begins with a well-known web page and proceeds to track internal links to pages inside that site as well as external links to pages on other sites.
The content on those pages, plus the context of the links it followed, help the crawler comprehend what each page is about and how it's semantically connected to all of the other pages within the search engine's enormous database, called an index.
When a user writes or voices a query into the search box, the search engine employs sophisticated algorithms to provide what it judges to be the most accurate and relevant set of results for that query.
SEOs employ their understanding of these ranking factors to develop and implement search marketing strategies that include on-page, off-page, and technological best practices.
An organisation that wishes to achieve and maintain high SERP rankings and, as a result, a large volume of high-quality user traffic should implement a strategy that prioritises user experience, employs non-manipulative ranking tactics, and evolves in tandem with changing search engine and user behaviours.
SEO Elements: On-Page SEO and Off-Page SEO
There are two techniques that are equally important in SEO: on-page SEO and off-page SEO.
On-page SEO:
It is the practice of producing content with the goal of improving your rankings.
This entails, among other things, adding keywords to your sites and content, regularly producing high-quality material, and making sure that your metatags and titles are written effectively and contain plenty of keywords.
Off-page SEO:
This is SEO that takes place off your website, like obtaining backlinks. Building connections and creating content that others want to share are required for this part of the equation.
Although it takes a lot of work, it is very much important for SEO success.
SEO Technique: Black Hat Vs. White Hat
Going after quick wins in SEO is commonly referred to as "black hat SEO."
People that use black hat SEO methods such as keyword stuffing and link scraping rank quickly.
Driving traffic to your website might be effective in the short term, but after some time Google will penalise and possibly blacklist your site, making it impossible for you to rank.
White hat SEO, on the other hand, is the only way to build a sustainable internet business. This SEO strategy focuses on your human audience.
This SEO strategy focuses on your human audience.
You will strive to provide them with the best material available while also making it easily accessible by adhering to the search engine's rules.
Bottom Line:
It's not so much about what you do as it is about how you do it in the realm of SEO.
If you buy guest pieces on sites that have nothing to do with your niche and spam them with links, you will be punished.
If you publish unique guest pieces that provide value to visitors on sites related to you, you'll be OK, and the link juice will flow smoothly to your site.
If you are looking for SEO services for your company in Surat, then connect with us. We are a well-known SEO agency in surat and provide all SEO-related services.
Through our SEO services and SEO support, we have assisted our clients in experiencing differences.