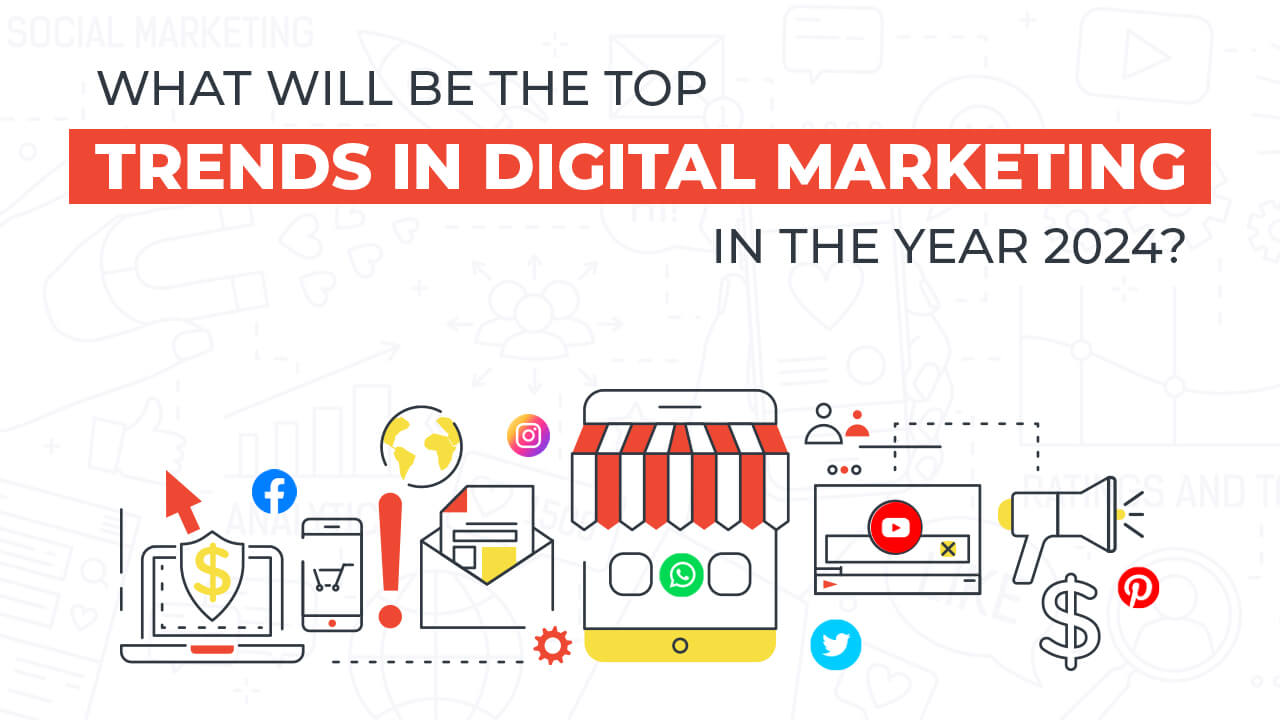 Digital Marketing is at the top of everything in this era of the digital world. With 1.5 billion social media users worldwide, it's a market that must be capitalised on by online enterprises or those yet to transition to a digital platform.
Many businesses have already begun to develop their digital marketing plans for the years 2023 and beyond. Savvy organisations seek for the most recent trends to implement to enhance their profits and influence.
What are the major digital marketing trends anticipated to emerge in 2023? This blog will look at digital marketing trends that are anticipated to emerge in 2023 and how they may affect your marketing efforts.
Here are some of the most important trends influencing digital marketing that can help you succeed.
Top Trends in Digital Marketing for 2023:
1. Short-Form Video And Livestream Content
Now this one is the most trending nowadays. People across the world like to watch reels and TikTok videos as their favourite timepass activity as well as generate more sales if you have made your video interesting.
Video advertising has some of the highest lead generation and conversion rates of any channel compared to other ways of marketing. Even permanent trends in digital marketing, however, are open to evolution and adjustment. TikTok and Instagram Reels dominate social media feeds and capture everyone's attention.
There is no doubt that this format will grow in popularity day by day. To remain relevant, organisations must present in the channels and formats where their customers are.
2. A Stronger Emphasis on User Experience
Customers in 2023 will be primarily concerned with having a memorable experience. This is not to say that affordability and quality should be overlooked.
Most digital marketing algorithms and artificial intelligence (AI) optimise for the same goal: to provide a better user experience.
By focusing more on your consumers' experiences, you may outperform the algorithms and please them.
3. Influencers Marketing
We all know very well that influencer marketing will continue to thrive in 2023. As the advertising landscape grows increasingly crowded, organisations must discover new ways to reach their target customers.
Influencers are increasingly providing opportunities for organisations to break through the noise with organic-looking content.
The influence of some influencers can create a significant return on investment, whether through Tiktok, Instagram, YouTube, or companies engaging with these people.
Influencer marketing has been on the increase for years, and this trend will only grow as influencers amass greater and larger audiences that marketers may use.
4. LinkedIn as a Business-to-Business Powerhouse
LinkedIn has been around for a long time, but it has recently experienced record growth and engagement.
In two years, it is estimated to account for 25% of B2B advertising. Businesses are increasingly able to use the platform to expand.
Despite this, very few businesses take advantage of it. Get in early to win disproportionately. Strategically incorporate LinkedIn into your goals. Improve your content. Expand your audience and look for additional features and possibilities to help you succeed faster.
5. Youth-focused advertising
The "next generation" of consumers, or so-called Gen Z, is more than just that. Gen Zers are setting new standards for how they engage with brands, mostly through platforms that cater to young people, such as Instagram and TikTok.
Younger generations are showing a preference for experiences that are more imaginative or experiential rather than unreal. They opt to interact exclusively with the brands that genuinely appeal to their interests and communication style after seeing through traditional marketing tricks.
This generation typically wants businesses to be truthful, open, and real.
6. Worker activation
Companies are beginning to recognise employee activation's potential.
Employees' digital networks can be used to improve brand engagement and visibility simply.
Employee activation initiatives motivate staff to discuss the brand on social media in two ways: through employee testimonials and employee interviews. They openly discuss their experiences working with the company and offer client success stories.
This marketing strategy has been proven to be an effective way to boost brand loyalty and draw in prospective new customers.
Conclusion:
Some significant emerging phenomena, such as AV, AI, and immersive experiences, won't go away. Hence, if you stay ahead of these technological developments in the upcoming year, you'll be in the lead in 2034 and every year after that.
Just be sure that every digital marketing campaign you go for 2023 resonates with your audience in a genuine, and relatable way.
If you need any kind of digital marketing services then connect to flyerdigi. We are a digital marketing company in surat and can provide you with incredible services in digital marketing. Connect with us now.