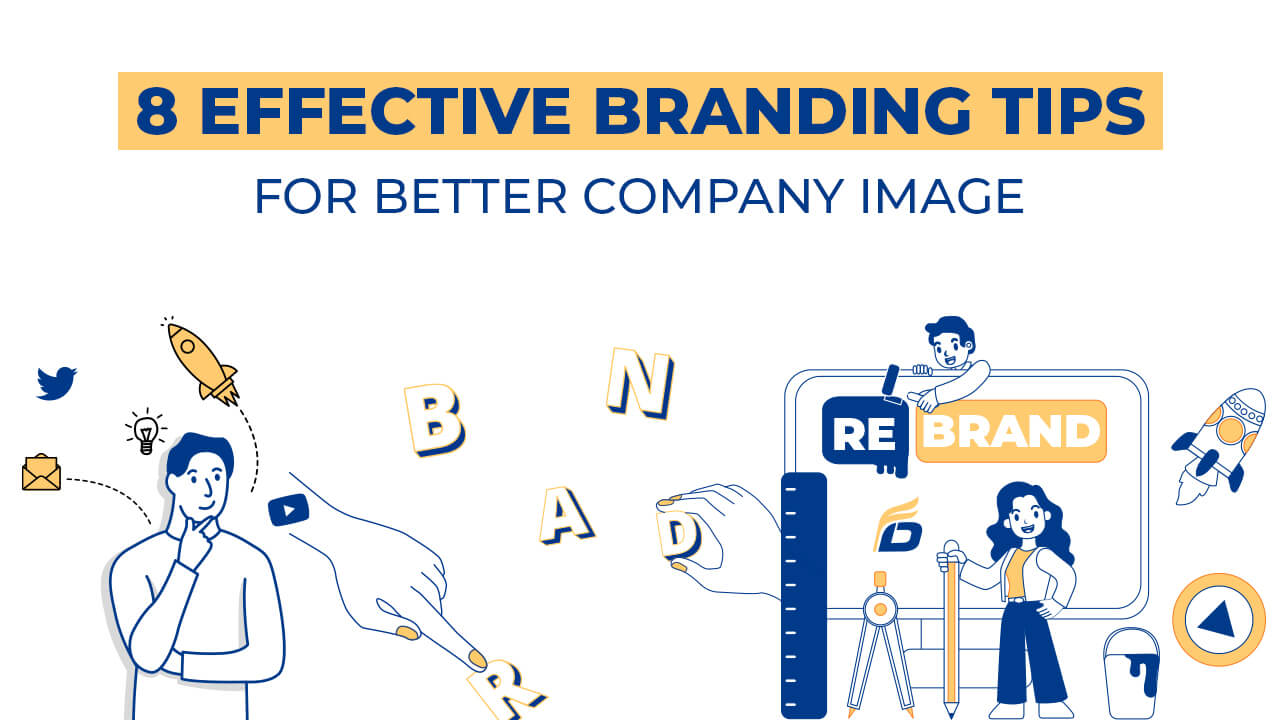 Having an excellent brand will assist you in establishing trust, gaining a reputation, and attracting the customers you desire. As a result, more sales and profit will be generated in the future.
Branding your business can be a time-consuming and complicated process, but we're here to help with our list of branding recommendations. We don't just buy things from a company because they provide a distinct experience that no other brand can replicate.
As a result, 86% of consumers believe that authenticity is an important factor in selecting which companies they love and support.
A company's branding is an intangible extension of its ideals; here are some tips for developing a distinct brand. Have a look.
1. Uniformity across all marketing channels
A strong brand is built on a consistent message. Every customer interaction should reflect your brand's underlying principles.
As a result, the appearance and feel of your website, social media profiles, business cards, and other marketing channels should all be consistent. When everything is consistent, it is easier for people to recognise and remember your brand.
2. Recognize Yourself Clearly
The ideal method to tell your tale isn't through clever headlines and eye-catching visuals. The name of your company should be related to the products or services that you offer.
Why do you own a company that sells a specific product? Profit is a great aim for anyone, but merely offering something for profit will not compel clients to support your firm.
Is this product going to make a difference in the lives of someone else? Begin with a basic grasp of who you are and why you are selling what you are selling.
3. Maintain a varied social media presence.
Having a great social media presence is one of the most significant things you can do to improve your brand.
To be successful online, you will need more than simply a Facebook page. Make sure you're on Instagram, Twitter, TikTok, and LinkedIn. By broadening your social media presence, you will be able to reach a larger audience and more potential customers.
Video content is becoming the most effective way to reach your target audience. Include information to educate your audience about your products and services while keeping them engaged and fascinated while developing video material for your business.
4. Build trust with your content.
Building trust with your target audience is critical for branding. You can accomplish this by ensuring that your postings are well-written and useful. People are more likely to trust your material if you establish yourself as a subject matter expert.
This goes hand in hand with responding to comments and inquiries in a timely manner to demonstrate to your audience that you respect their opinion.
5. Combine images and text
When it comes to social media, it's all about visual consumption. People frequently respond better to visuals than to words alone.
Using visuals such as photographs, videos, and infographics to break up simple written material can help make your brand more relatable and engaging.
6. Recognize What Sets You Apart
The first step in creating a brand identity is to build a distinct selling proposition.
As a result, it is critical to do competitive research. Describe your company's brand definition and how it differs from competitors. In addition, how do your competitors conceptualise and present their respective brands? Look for distinguishing characteristics that you can identify with.
7. Use Your Company's Logo in Everything You Do
Logos are much more than just a lovely insignia when it comes to branding.
It must be memorable enough to set your organisation out from the competition. In many cases, the logo is the first thing that new and potential clients notice about a business. If you want people to take you seriously, you must make a strong first impression.
8. Construct a Brand Story and Messaging
Be as clear as possible about your company's mission and beliefs when developing its identity. Use the tone of voice you selected for your brand message.
Every piece of content you create should be directly related to your brand's identity and supplied on a consistent basis.
Bottom line:
That's all!
With these branding strategies, We're confident you'll begin to consider carefully growing your brand or strengthening the brand your customers already adore. If you are looking for a digital marketing agency in Surat then connect to flyerdigi today. We are a digital marketing and branding company in surat. Connect with us now.