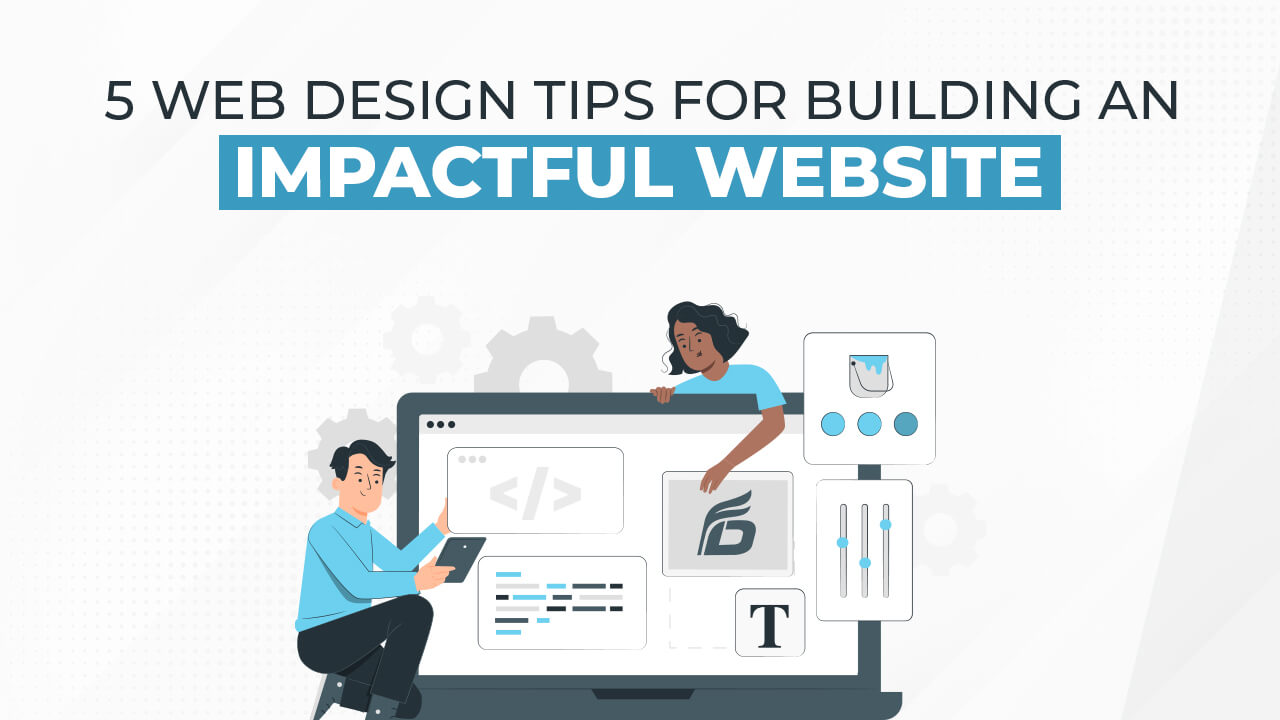 Is your website so powerful that visitors to your website understand what your business does in just five seconds?
Is your pricing design simple to understand? Is the bounce rate on your website low?
These are the questions that come into mind when as a business owner you are planning to launch your website. Even all kinds of stores these days need to have an online presence.
Making a website isn't particularly difficult because of the many website design tools available. Here we give you the top 5 Web Design Tips For Building an Impactful Website in 2023. Have a look:
Make your Home page simple.
One of the most popular web design techniques is this one.
Your main message should be immediately clear on your website's home page. Most website visitors don't read the entire thing. Instead, they hunt for words, phrases, and images throughout the entire page.
Follow these tips to keep it simple.
- Keep crucial information above the fold.
- Use whitespace to separate components.
- Include high-quality media elements like gorgeous photos, vector art, or icons.
- add a call-to-action button to the home page.
Must Read : Why Your Website's Homepage is So Important
Plan ahead
Having a strategy for your business's online activities can be beneficial, and website design should be at the top of the list.
Build a customer journey from the moment someone sees your website for the first time to the moment they make a purchase. Think about the websites they'll visit, the articles they'll read, and the links they'll click.
By being aware of this, you can create a website that nurtures leads as they move through the sales funnel.
Make it easy to locate.
You need a domain name that either corresponds to the name of your business or describes what you do. Even more than one domain can direct visitors to the website.
You should implement technical SEO best practices, keyword research, content marketing, and paid advertising campaigns for this job to be done.
Think about hiring experts in web development, branding, SEO, and content marketing to advise you and provide direction while you build your website.
Keep it mobile-friendly
All of your site visitors should be able to experience your expert website at its very best. To stay up with the increasingly mobile world, Wix automatically creates a mobile-friendly version of your site when you design one.
Put yourself in the shoes of the user as you review and test each page, user action, and button on your site's mobile edition.
Make good use of stock photos.
The finest photography for your website is always original photography. If that's not an option, you can use Tips that will help you select the ideal stock photo.
Since generating your images takes more time and effort, many websites use stock photos instead. Look for images with natural lighting and genuine scenery.
The images may show people conversing over a meeting table in business attire, typing on laptops while looking over their shoulders, or using a whiteboard in an open space. Instead of studio photos, try to locate candid ones.
Final words:
Designing a website has been quite simpler than before.
With modern tools and techniques, it's easy to create one engaging website for your business.
If you are interested in building one for your business then contact flyerdigi. We are a digital marketing and website design company in Surat. and provide our services across the globe.